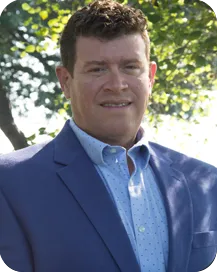 Dr. Stuart Samples started practicing in 2005 and became partner in 2008 in what is now McCoy and Samples Dental Clinic. Dr. Samples has strong ties to the area in which his practice serves. He was born in Waverly Mo. and was raised in Carrollton Mo.
He completed undergrad at SMSU in Springfield Mo with a major in Cell and Molecular biology and a double minor in psychology and chemistry. Dr. Samples attended dental school at UMKC school of dentistry with a DDS (doctor of dental surgery) degree. He is active in organizations that influence dentistry and the welfare of patients. He is a member of ADA (American Dental Association), MDA(Missouri Dental Association), NWDS (Northwest Dental Society), GKCS (Greater Kansas City Dental Society), and was inducted into the Pierre Fauchard Academy (international honor dental organization). He served as vice president for NWDS in 2008 and president in 2009, MDA board of trustees member 2008-2010.
Dr. Samples is a general dentist and his practice includes operative dentistry, endodontics (root canals), dentures and partials, crown and bridge, and tooth extractions. His wife, and two children enjoy spending time with each other and several outdoor activities. Dr. Samples believes everyone should have the access to quality dental care, and that it is an honor and a privilege to serve the communities of rural Missouri.